The Old Computer is Home To Old Computer and Console Games, ROMs, ISOs, Emulators, Manuals and Magazines
Download free ROMs and Emulators for Acorn, Adult Games, Altos-Computer-Systems, Ampro, Amstrad, Andamiro, APF, Apple, Arcade, Atari, Bally, Bandai, Basis-Microcomputers, BIOS-System-Boot, Bit-Corporation, Bondwell, Cambridge-University, Camputers, Casio, CCE, Cell-Mobile-Phone, Central-Data, Chaos, Chintendo, Chip-8, Coleco, Commodore, Convergent-Technologies, Cray, Creatronic, Cybiko, Daphne-LaserDisc, DEC, Dick-Smith, Dragon, Dream, EACA, Elektor, Elektronika, Elektronska-Industrija-Nis, Emerson, Enterprise, Entex, Epoch, ETL, Exelvision, Exidy, Fairchild, Franklin, Front-Fareast, Fuji, Fujitsu, Funtech, Game-Park, GCE, Handheld-System-Remakes, Hartung, Hewlett-Packard, Homelab, IBM, Incredible-Technologies, Infocom, Interact, Interton, Jupiter-Cantab, Kaypro, Keio-University, Koei, Konami, Konix, LCD-EPFL-Stoppani, Leapfrog, Luxor, Magnavox, MAME, Matra-Hachette, Matsushita-National, Mattel, Memotech, MESS, MGT, MicroBee, Microkey, Microsoft, Millennium-Systems, Milton-Bradley, MITS, MSX, Multitech, Namco, Nascom, NCR, NEC, NeXT, Nichibutsu, Nintendo, Nuon, Osborne, Palm, Panasonic, PC, PEL-Varazdin, Philips, Phunsy, Pioneer, Pipbug, Pong, Powertran, Psion, PTC-Sol, RCA, REAL, Research-Machines-RM, Robotron, Sage-Stride, Sega, Sharp, Signetics, Sinclair, SNK, Sony, Sord, Soviet-Bloc, Spectravideo, Tandy-Radio-Shack, Tangerine, Tapwave, Tatung, Tesla, Texas-Instruments, Thomson, Tiger, Tiki-Data, Timex, Tomy, Triumph-Adler, Tsukuda, University-of-Tokyo, Uzebox, VideoBrain, Videoton, Visual-Technology, VTech, Wang, Watara, Worlds-of-Wonder and ZAPiT from The Old Computer.
Main Menu of The Old Computer:
Home
ROMs
Emulators
Box Art
Game Music
Manuals
Retro Radio
MISC Retro
List of ROMs Available on The Old Computer:
Acorn
Adult Games
Altos-Computer-Systems
Ampro
Amstrad
Andamiro
APF
Apple
Arcade
Atari
Bally
Bandai
Basis-Microcomputers
BIOS-System-Boot
Bit-Corporation
Bondwell
Cambridge-University
Camputers
Casio
CCE
Cell-Mobile-Phone
Central-Data
Chaos
Chintendo
Chip-8
Coleco
Commodore
Convergent-Technologies
Cray
Creatronic
Cybiko
Daphne-LaserDisc
DEC
Dick-Smith
Dragon
Dream
EACA
Elektor
Elektronika
Elektronska-Industrija-Nis
Emerson
Enterprise
Entex
Epoch
ETL
Exelvision
Exidy
Fairchild
Franklin
Front-Fareast
Fuji
Fujitsu
Funtech
Game-Park
GCE
Handheld-System-Remakes
Hartung
Hewlett-Packard
Homelab
IBM
Incredible-Technologies
Infocom
Interact
Interton
Jupiter-Cantab
Kaypro
Keio-University
Koei
Konami
Konix
LCD-EPFL-Stoppani
Leapfrog
Luxor
Magnavox
MAME
Matra-Hachette
Matsushita-National
Mattel
Memotech
MESS
MGT
MicroBee
Microkey
Microsoft
Millennium-Systems
Milton-Bradley
MITS
MSX
Multitech
Namco
Nascom
NCR
NEC
NeXT
Nichibutsu
Nintendo
Nuon
Osborne
Palm
Panasonic
PC
PEL-Varazdin
Philips
Phunsy
Pioneer
Pipbug
Pong
Powertran
Psion
PTC-Sol
RCA
REAL
Research-Machines-RM
Robotron
Sage-Stride
Sega
Sharp
Signetics
Sinclair
SNK
Sony
Sord
Soviet-Bloc
Spectravideo
Tandy-Radio-Shack
Tangerine
Tapwave
Tatung
Tesla
Texas-Instruments
Thomson
Tiger
Tiki-Data
Timex
Tomy
Triumph-Adler
Tsukuda
University-of-Tokyo
Uzebox
VideoBrain
Videoton
Visual-Technology
VTech
Wang
Watara
Worlds-of-Wonder
ZAPiT
List of Emulators Available on The Old Computer:
Acorn
Amstrad
APF
Apple
Arcade
Atari
Bandai
BBC
Coleco
Commodore
Compukit
Dick-Smith
Dragon
EACA
Elliot
Emerson
Enterprise
Fujitsu
GameBase
GCE
Hitachi
HomeLab
Jupiter-Cantab
Konix
Magnavox
MAME
Matra-Hachette
Mattel
MESS
MGT
MicroBee
Microkey
Microsoft
Milton-Bradley
MSX
Multi-System
NEC
Nintendo
Nuon
Panasonic
PC
Philips
Pinball
Sega
Sharp
Sinclair
SNK
Sony
Tandy-Radio-Shack
Tangerine
Texas-Instruments
UME
Videoton
VTech
Watara
List of Box Art Available on The Old Computer:
Atari
Bandai
Coleco
Commodore
Magnavox
Mattel
MSX
NEC
Nuon
Panasonic
Philips
Sega
SNK
Sony
Tandy-Radio-Shack
List of Game Music Available on The Old Computer:
Amstrad
Arcade-Coin-Op
Commodore
Nectarine-Radio
Sega
Sony
List of Manuals Available on The Old Computer:
Atari 2600
Atari Tomb Game Manual Archive V1.51
Atari 5200
Atari 7800
Commodore64
List of Retro Radio Channels Available on The Old Computer:
Channel1 nectarine
Channel2 kohina
Channel3 slay
Channel4 Ormgas OC Remix
Channel5 Rainwave
Channel6 cgm UK Demoscene
Channel7 Radio Paralax
List of MISC Retro Available on The Old Computer:
The Library
Website Artwork Archive
Website News Archive
The CCCC
The Atari Brand Book
Old TV Commercials
Activision Arm Patches
BootUp Screens
Old Videogame Magazines
Old Computer Press Ads
My TV Film Shoot
Old Game Manuals
Community Menu of The Old Computer:
About
Forum
Blog
Twitter
Facebook Page
YouTube Channel
Discord Channel
Hall of Fame
Links
Join Us Menu of The Old Computer:
Register Here
Donate/Upgrade
How To Help
FAQs
Footer Menu of The Old Computer:
Home
Emulators
ROMs
Box Art
Game Music
Forum
Blog
Disclaimer
Privacy Policy
Facebook
Twitter
YouTube
The Old Computer Website Homepage Screenshot: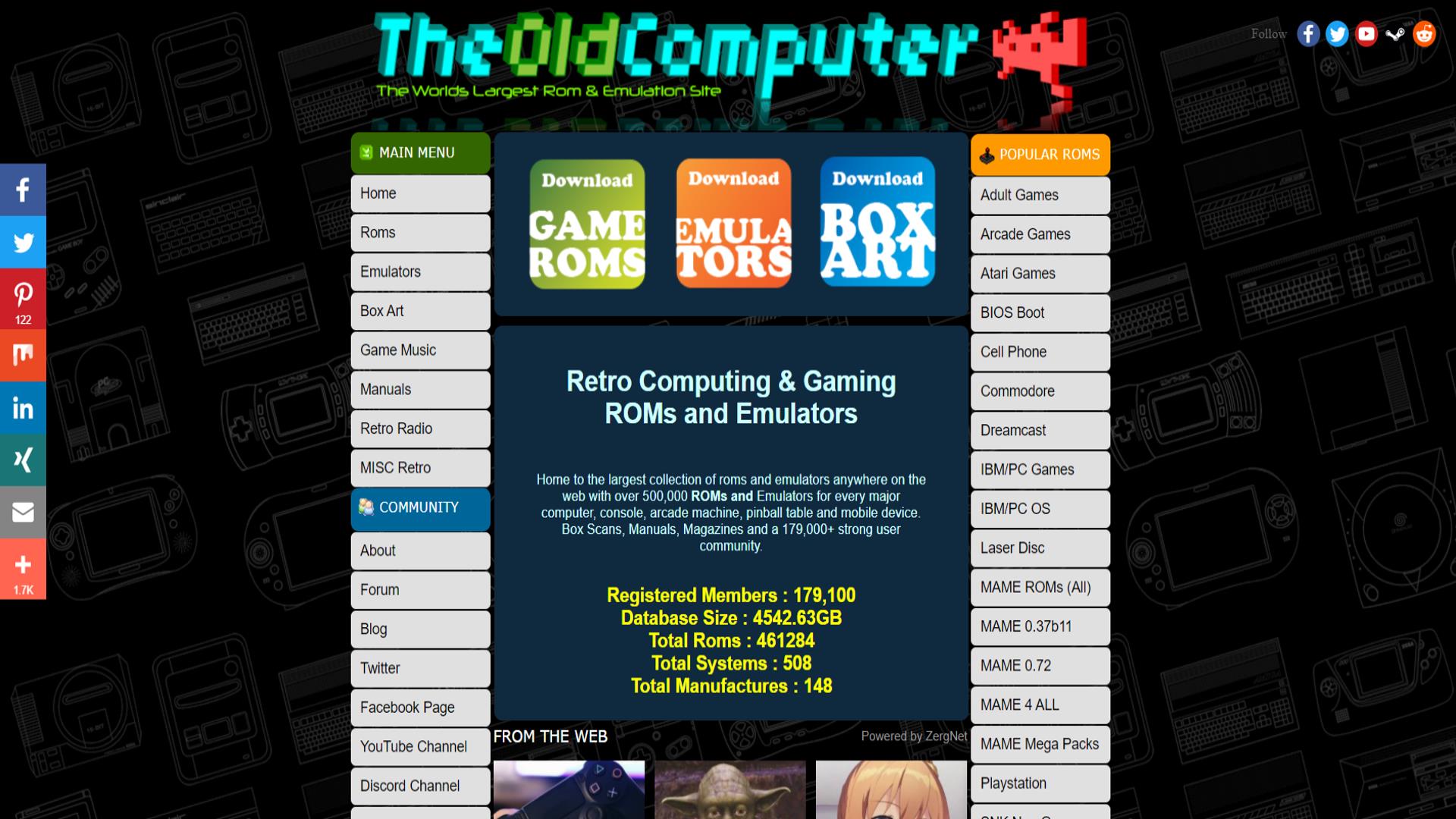 The Old Computer Website Link → www.theoldcomputer.com
The Old Computer Website Information:
Alexa Rank: #528721.
Site Age: 20 years and 3 Months.
Created In: 4 August 2000.
Daily Visitors: 1 Thousand.
Daily Page Views:  2 Thousand.
Hosted In: United Kingdom.
The Old Computer is the webs oldest and largest dedicated retro computing and video game site. Emulators and ROMs for every known format. Old Magazines, Game Covers, Manuals, Screenshots and a wealth of other great material that totals over 5TB. 100,000's of Roms and Emulators for free download from The Old Computer.
is The Old Computer Safe
The Old Computer is the oldest and safest website to download video game ROMs and Emulators but it is recommended to scan any downloaded file through antivirus software if you download ROMs and Emulators from this types of ROMs downloading sites.
The Old Computer Alternatives
The Old Computer is not the only site to download old video games ROMs and Emulators. Here is the list of the old computer alternatives:
Note:
The above article is just for educational purposes only and this site (SafeROMs.com) does not promotes any illegal activity or piracy. The aim of SafeROMs.com through this article is only to provide right information about The Old Computer website.