The ISO Zone – The Worlds Finest Retro Gaming Resource
Download free ROMs, Emulators and Homebrew for your favorite Retro Systems like, Microsoft XBox, Sega Dreamcast, Nintendo Gamecube, NDS, PC and PlayStation Series and more from The ISO Zone.
Main Menu Of The ISO Zone:
Home
Downloads
Community
Submit
Categories Of The ISO Zone:
Microsoft Xbox
Sega Dreamcast
Nintendo Gamecube
PC
Sony Playstation Series
Other Consoles
Retro Systems
Miscellaneous
NDS
Sub-Categories Of Microsoft Xbox On The ISO Zone:
Xbox ISOs
Homebrew Games
Homebrew Apps
Emulators
Tools
Other/Misc
Trainers, Savegames & Patches
Skins
Sub-Categories Of Sega Dreamcast On The ISO Zone:
Dreamcast ISOs
Homebrew Games
Homebrew Apps
Emulators Bleem! Games (PSX)
Dreamcast GDIs
Dreamcast SD ISOs
Other/Misc
Sub-Categories Of Nintendo Gamecube On The ISO Zone:
Gamecube ISOs
Emulators
Tools
Other/Misc
Sub-Categories Of PC On The ISO Zone:
Windows Games
Dos Games
Game Addons & Mods
Homebrew Games
Patches & Fixes
Other/Misc
Linux Freeware
Sub-Categories Of Sony PlayStation Series On The ISO Zone:
Playstation 2 ISOs
Playstation (PSX) ISOs
Playstation 2 Homebrew
Playstation (PSX) Homebrew
Playstation Portable (PSP) Homebrew
Emulators
Tools
Other/Misc
PSX2PSP
Playstation Portable (PSP)
Plugins
Sub-Categories Of Other Consoles On The ISO Zone:
Sega CD
Sega Saturn
Sega Megadrive (Genesis)
Sega Master System
NES
SNES
Nintendo 64
Gameboy
Gameboy Advance
Game Gear
Neo Geo CD
Neo Geo Pocket
Sub-Categories Of Retro Systems On The ISO Zone:
Atari 2600
Atari 5200
Atari 7800
Atari Jaguar
Atari Lynx
Colecovision
Commodore 64
MAME
(Arcade)
Panasonic 3DO
Philips CD-i
Atari ST
Amiga
Amiga CD
Amstrad CPC
WonderSwan Mattel Intellivision
Memotech MTX512
GCE Vectrex
MSX
MSX2
TurboGrafx 16
Sub-Categories Of Miscellaneous On The ISO Zone:
Soundtracks
Android iPhone Freeware/Trial Tools
Full Rom Sets
Books
Sub-Categories Of NDS On The ISO Zone:
Nintendo DS Roms
Nintendo DS Homebrew
Nintendo DS Emulators
Nintendo DS Tools
The ISO Zone Website Homepage Screenshot: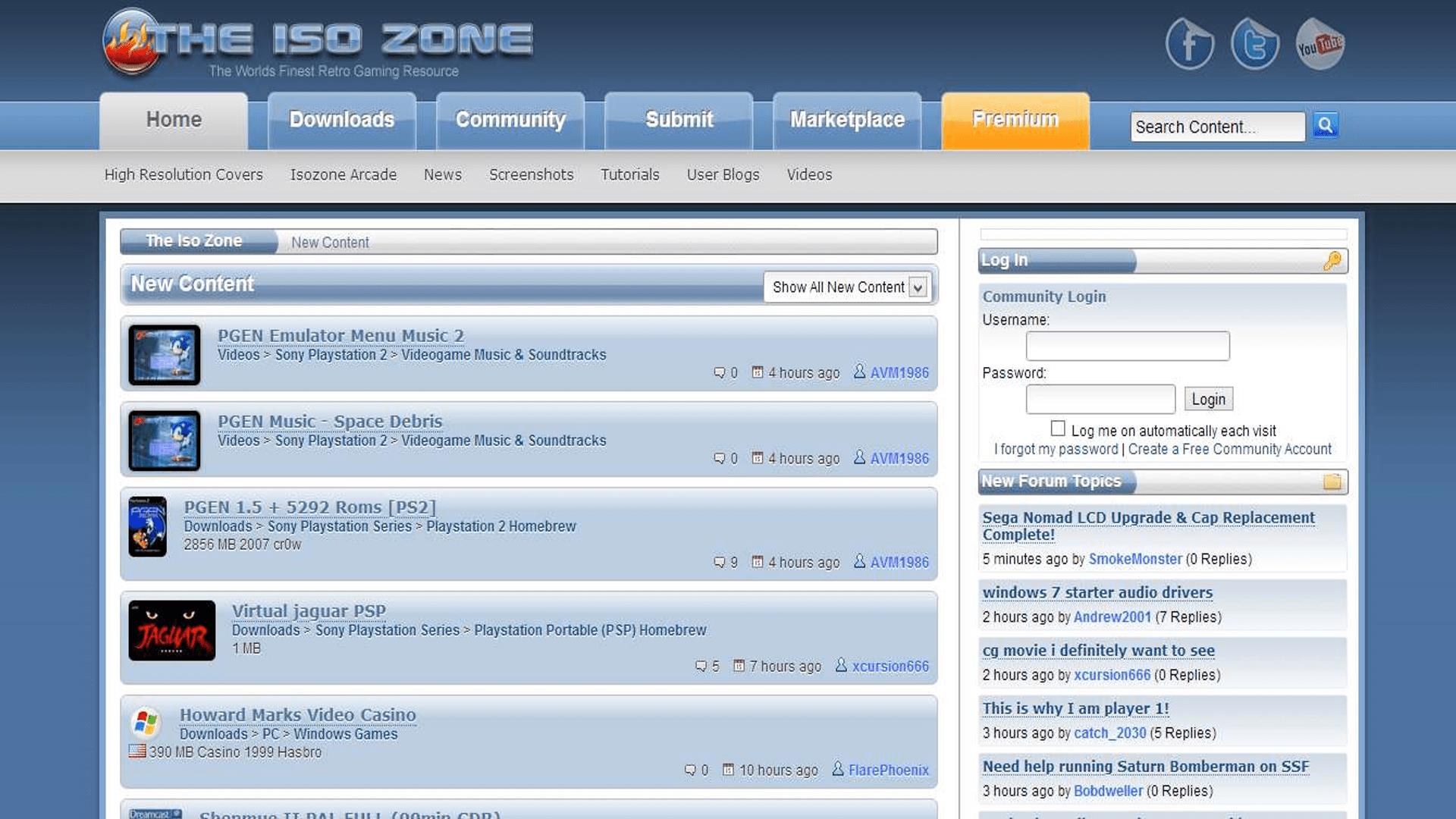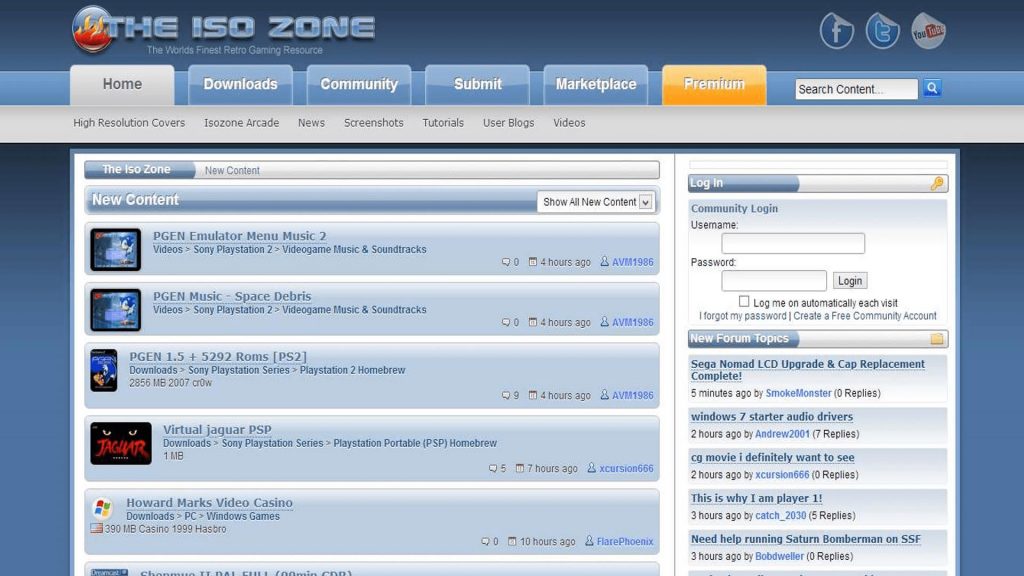 The ISO Zone Website Link → www.theisozone.com
The ISO Zone Website Information:
Alexa Rank: #8097
Site Age: Approx 11 years and 1 Months.
Created In: 06 December 2009.
Daily Visitors:  Approx 21,514,560.
Daily Page Views: Approx 47,332,470.
Hosted In: Netherlands.
The ISO Zone is a website where you can download ROMs, ISOs, Emulators and Homebrew free.
is The ISO Zone Safe
The ISO Zone is not safe. If you download a file from this website, it is important to check it with an antivirus because this types of ROMs downloading sites are notorious for containing viruses and malware.
Where is The ISO Zone
The ISO Zone website is permanently closed because of copyright Infringement laws. here is the last statement of The ISO Zone before the website is closed:
Hi folks,

We thought we would issue a statement regarding speculation so everyone has the full picture.

First of all, we would like to address the elephant in the room:

Copyright Infringement

Copyright infringement laws vary from country to country, but the premise in a nutshell is that copyright infringement is the cause of monetary loss or damage to the copyright holder.
With retro gaming, there are no ways of purchasing the games – let alone the systems to play them on – in a way that would still generate the copyright holders revenue. None whatsoever.

This is why retro roms have always been a grey area. The distribution of their works, although frowned upon, were never actioned against as in a court of law that is what they would have to prove – Monetary loss or damages. And they couldn't – Because it's simply not true.

Trademark infringement is also another story, however we were also pretty strict when it came to this – as per our list of restricted trademarks. We had this in place long before many retro sites started panicking.

HOWEVER – That stated – Times are changing. There are now growing ways of obtaining these retro titles through avenues which DO benefit the copyright holders and it seems clear due to recent events, that there are a lot more avenues in development.

This is why we decided to throw in the towel of our own accord. It was a good ride and it was a just ride, however it is clear that in the not so distant future, distributing retro titles could be a serious case of copyright infringement.

That doesn't mean they will get it right though – Chances are they wont. We have ideas on how the archiving of retro titles and the pleasing of the copyright holders should be done and would love to pursue it eventually.
We think the webmasters of retro rom sites should come together and work with the copyright holders. It does not have to be this hard – And criminals should not be made out of passionate enthusiasts.

Take Spotify for example. Spotify has dominated the music industry and they started with scene release MP3 files. Their affordability, selection and ease of use then pretty much stopped all serious cases of online music piracy.
The similarities are astounding. It's time there was a happy medium like Spotify for retro gaming.

Moving on…

We would like to explicitly state that we are not re-branding or moving, despite the general consensus.
There is a new project underway by retro gaming enthusiasts to rebuild our original archive. And we wish them well.

Thanks for playing!
TiZ
Bonus – The ISO Zone Website is still available on Web Archive.
The ISO Zone Alternatives
If you are searching for a website like, The ISO Zone where you will able to download free ISOs, ROMs and Emulators. So, here is the list of best Alternatives of The ISO Zone:
Note:
The above article is just for educational purposes only and this site (SafeROMs.com) does not promotes any illegal activity or piracy. The aim of SafeROMs.com through this article is only to provide right information about The ISO Zone website.